Top Chi baoding balls are a hand exercise tool that have been used for centuries since the ancient times in China. It includes two solid steel balls which are rotated around in the palm of your hand. Depending on your dexterity level and agility, it can be easy or challenging. But that is why they are fun and healthy to use! Practicing daily with Top Chi baoding balls exercises the muscles in the hand and wrist. After you get the hang of the basics, more advanced techniques can be tried such as spinning the balls without them touching, rotating them in reverse, and even 3 or 4 balls per hand. Basic or advanced exercises will all build hand coordination and strength. Doctors have recommended the use of baoding balls as they help manage hand and wrist conditions.
Top Chi's baoding balls include a convenient zipper carry pouch so you can easily carry them with you to exercise whenever your hands are idle. The pouch also has a disc you can place between the balls so they stay silent if rattled. They are solid so they do not chime like traditional baoding balls. Use them anywhere without disturbing other people.
Doctor Recommended
"Stress management is an important step in adding years to your life. Stress is the #1 ager of the body and its effects can be beyond destructive. It's important to get a handle on stress; one way to achieve this is through meditation. Chinese harmony balls are a good way to zen out. They target acupressure points that stimulate the release of healthy energy, the rhythmic motion can be relaxing" - The Dr Oz Show
A 2″ ball is a large sized set that any person can use from medium to large hands. You can rotate them touching each other as a beginner, and with practice rotate them faster and apart.
One of the Earliest Health Discoveries
As early as when the Great Wall of China was built, people in China have discovered the benefits of using baoding balls. It has been a staple of traditional Chinese medicine with its use on stimulating acupressure points and meridians of the hand. You can learn more on our website. Used all over the world now, it's long history of continued use is proof of the healthy benefits of this exercise.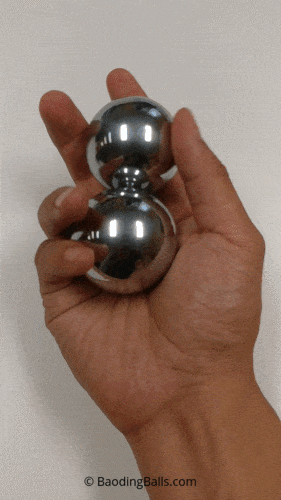 Treat or Prevent Hand and Wrist Problems Before Severe Injury
The Mayo Clinic says wrist problems such as carpal tunnel can be treated early without surgery and should be treated as soon as symptoms start. Things you can do are wear a brace, take breaks from doing activities with your hands, rotate your wrists, and exercise by stretching the palms and fingers. If you have symptoms, don't wait, it will only get worse!
Additional information